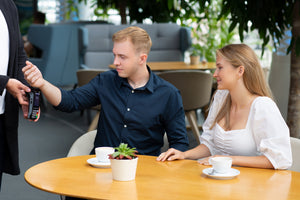 INSPIRATION
The steps we take today define our future, which is inextricably linked to innovative technology that is slowly becoming our daily reality. We saw that in order to move forward and continue to develop, we need to live in symbiosis with technology.
For this reason, the future idea of a complete solution has appeared in our heads— to replace the bulky wallet with one small, fully secure implant, with proximity payment function, combined with a full-fledged individual account, allowing you to store money in different currencies and pay with a wave of your hand.
An idea which was once only a dream and a futuristic imagination is becoming a reality today because of our passionate and committed team. Walletmor is designed by experts of new technologies and smart solutions who have many years of experience in the field of both implants and finance. We are proud to say that an individual account and an NFC-enabled implant combine incredible functionality with the highest level of security – both for health and transactions. Walletmor is the world's first company that can provide you with a payment implant and the complete wallet solution to follow. The road to its implementation is not easy, but we believe that thanks to daily hard work and dedication, the final Walletmor's full infrastructure will see the light very soon. It is not just a project. It is our mission.
MEET THE TEAM
Wojtek Paprota
CEO
Walletmor Founder. Serial entrepreneur, the man behind the idea of bringing a payment implant into every person's hand.
Amal Graafstra
CTO
Founder of VivoKey and Dangerous Things. Most respectable person in the smart implants space with 15 years of experience in designing and manufacturing implants.
Artur Bilski
CLO
Attorney-at-law specialized in the field of financial regulations, new technologies, and FinTech.